Sep. 4, 2014
Nestle Japan and ITOKI CORPORATION Initiate the "Wellness Office" Project Kicking off with a Jointly Developed Office Tool for Creating New Value

"For Healthy Bodies and Minds of All Workers,"
Nestle Japan Limited ("Nestle" based in Kobe, Hyogo. Represented by Kozo Takaoka, President & CEO) and ITOKI CORPORATION ("ITOKI" based in Osaka. Represented by Tadashi Matsui, President) will initiate a joint "Wellness Office" project to promote healthy bodies and minds for all workers.
Conceptualized to make slight changes to the office environment and work style rules, the project will offer various solutions. In the aim of creating new value, the project will start this autumn with a jointly developed office tool, the "Cafe NESCAFE Office."
About the "Wellness Office" project
Today in Japan, offices are being tasked with a wide range of missions, such as ensuring higher productivity and active office communication.
The "Wellness Office" project was developed jointly by Nestle, which is promoting its "Nescafe Ambassador" program (http://nestle.jp/amb/) to offer excellent coffee and deliver happiness to offices, and ITOKI, which is rolling out "Workcise" (http://www.itoki.jp/solution/workcise/) to seamlessly offer a large variety of office solutions for healthy bodies and minds while working. The project is designed to constantly offer innovative solutions to help increase corporate value in the medium to long term.
About "Cafe NESCAFE Office"
With a focus on active communication, Nestle and ITOKI jointly developed the "Cafe NESCAFE Office" tool for creating new value and will introduce it to kick off the project. A new table is styled and designed so all workers can relax and have casual conversations or meetings with each other in a space equipped with a "Nescafe Gold Blend Barista" or "Nescafe Dolce Gusto" coffee machine, available under the "Nescafe Ambassador" program.
Small talk occurring on such occasions encourages further communication, eventually leading to higher work efficiency. Small and large sizes are available as a package with the "Nescafe Ambassador" program and will be offered to offices under purchasing options and conditions through ITOKI's sales network.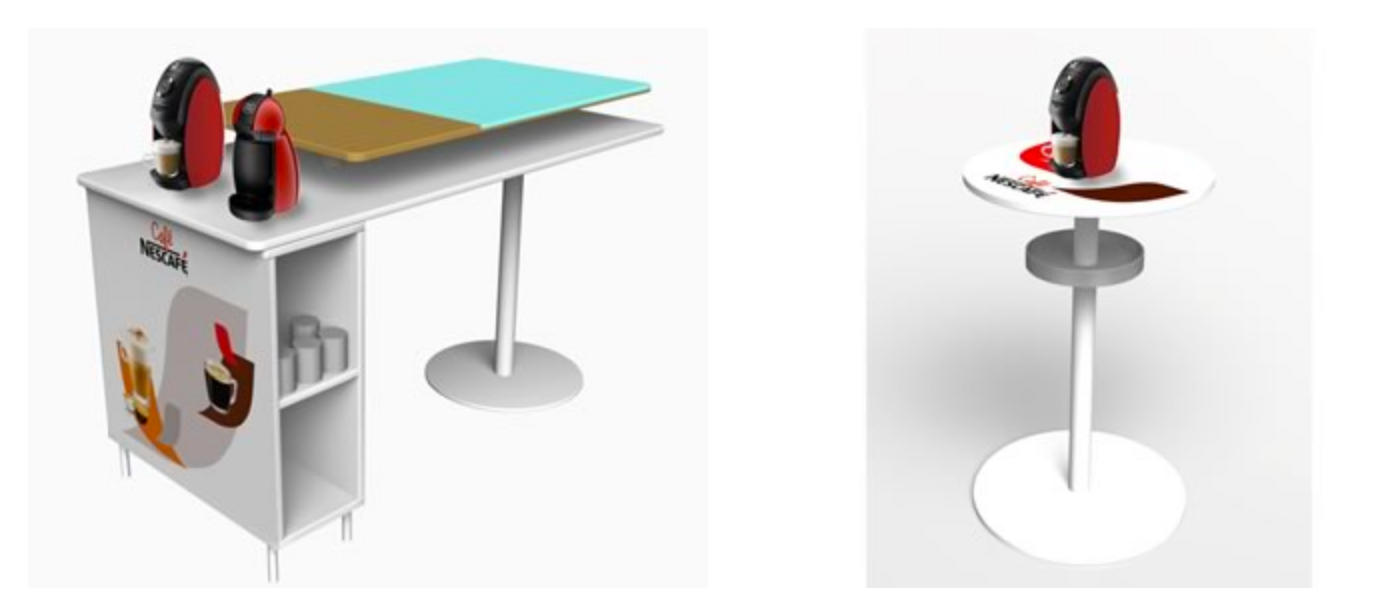 "Large" on left and "small" on right. * The design is subject to change without prior notice.
Through this new project, Nestle and ITOKI will deliver further solutions for making office environments more comfortable and healthier for all workers.
About "Nescafe Ambassador"
"Nescafe Ambassador" is a service that started in November 2012, offering the "Nescafe Gold Blend Barista" coffee machine for enjoyment in the office. Over two million home-use machines have also been sold. Besides economic efficiency and convenience, another benefit is that a cup of coffee can extend a conversation and make people happy, enhancing office communication. This experience has been appreciated by over 140,000 ambassadors (as of the end of August 2014).
To subscribe to a "Nescafe Ambassador" course, please visit our website at:
http://nestle.jp/amb/

About "Workcise"
"Workcise" is a coined word meaning office activities beneficial to both work and health. Activities such as self-imposed walking in the office, working in a standing posture and communicating with others can increase work productivity and enhance health. Effective use of these "Workcise" activities helps to build a healthy body and mind while working. ITOKI offers an office planning solution to increase "Workcise" opportunities in connection with work and health issues. For further details, please visit our "Workcise Planning" website at:
http://www.itoki.jp/solution/workcise/

For media inquiries (press only) about this product, please contact:
Communicator
International Division, ITOKI CORPORATION
Phone
Tel: +81-3-3206-6338
Fax: +81-3-3206-6016
* The information contained herein is valid as of the date of release and is subject to change without notice.