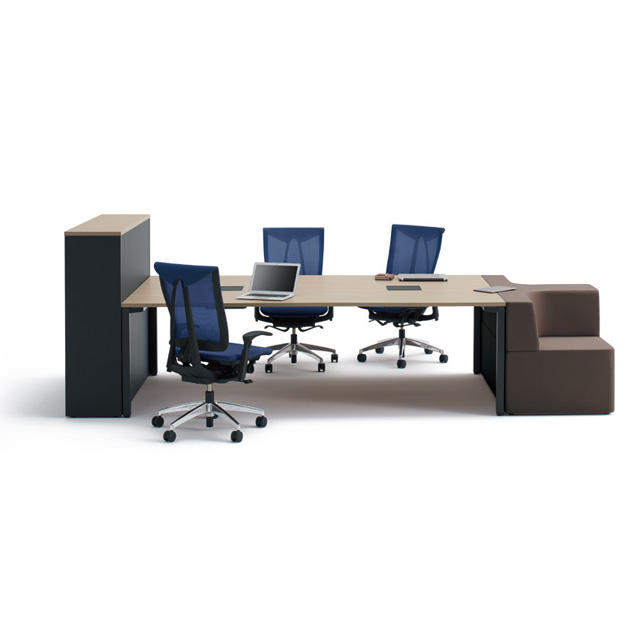 ActLink
Office system that supports free, flexible, and diverse ways of working
---
Office system that can flexibly accommodate changing ways of working and operational needs
A multi-functional workspace that accommodates changing ways of working, and a system readily adaptable to universal plans. This is ActLink, an office system that can handle a variety of scenarios.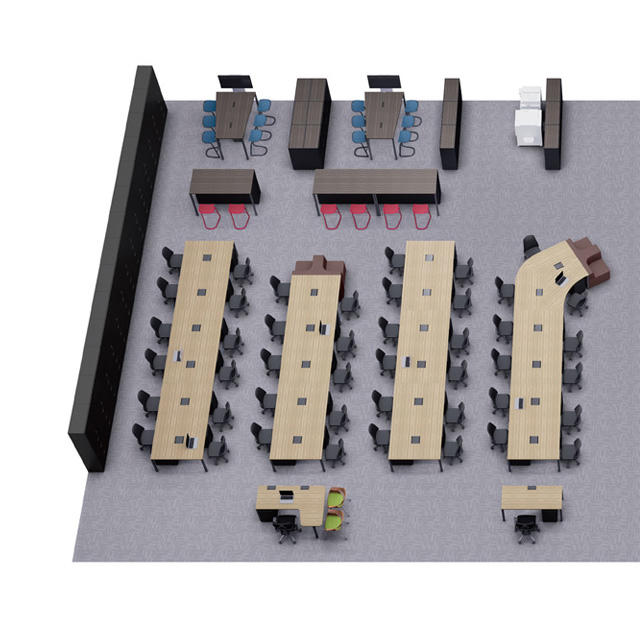 Accommodating standard-type offices that enable ongoing office operations
This is a universal plan in which the layout is not changed, enabling ongoing office operations.
This boosts worker productivity and supports efficient communication in the organization.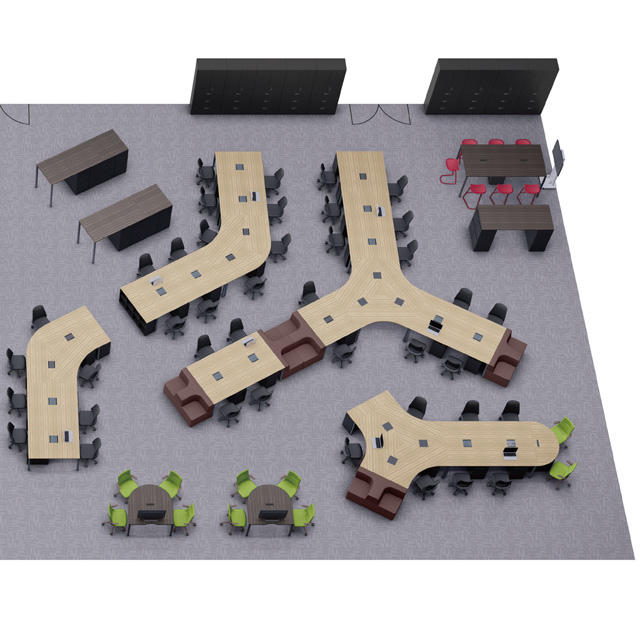 Accommodating communication-type offices that enable new ways of working, as well as conversing and concentration
Workplaces with various formats can be created that accommodate diverse ways of working among workers.
This promotes cross-organizational collaboration, and includes workspaces where conversing or concentration can be chosen.

Ability to change number of tables lined up in accordance with increases and decreases in personnel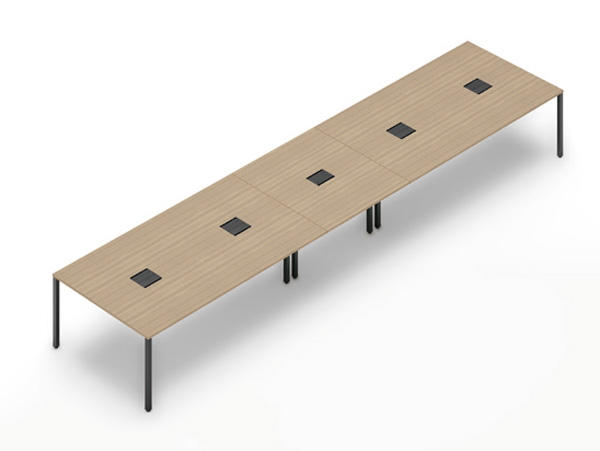 When connecting tables, no additional parts or accessories are needed (ability to connect up to four tables)
This makes it possible to flexibly accommodate increases or decreases in personnel and layout changes.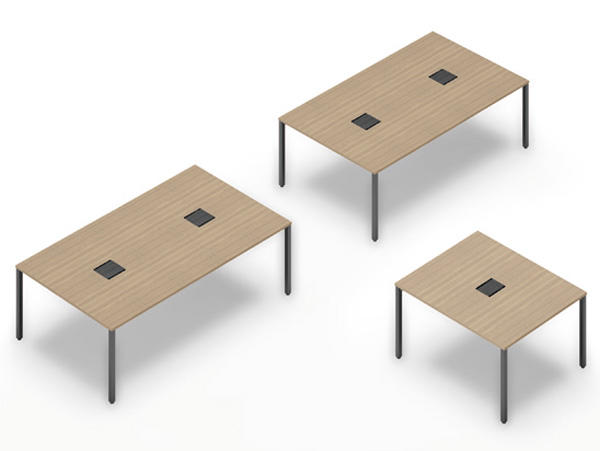 * Ability to make changes without the need for additional parts or accessories
General workspace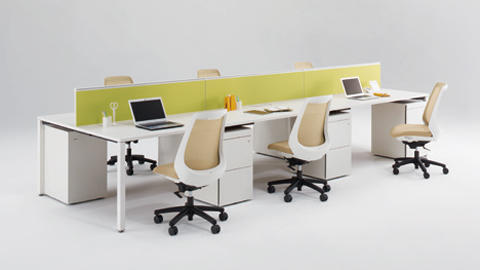 Group table
The table legs can be moved inward and connected, so it is possible to use this table as a large-tabletop desk that is optimal for universal plans.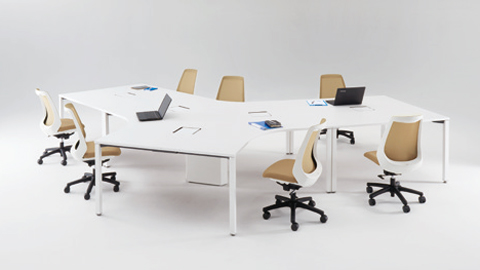 Hub table
Use of this hub table enables free movement around the office and this makes it possible to promote communication and control lines of sight.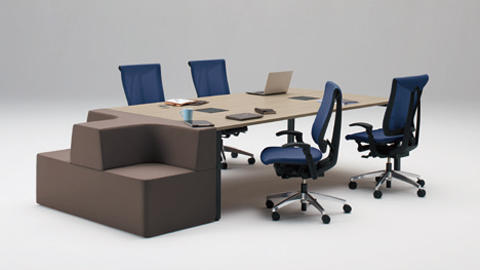 End sofa
Positioning this sofa at island-type desk ends and between desks enables smoother communication in work areas.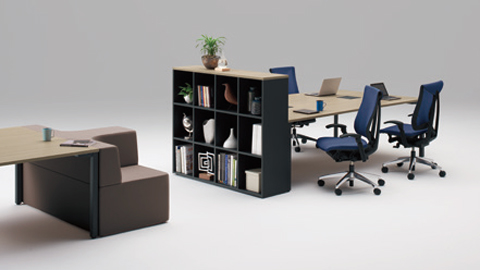 End cabinet
This is a key element for communication since it can store shared team documents and so on, and thereby reduce the number of documents that individual workers need to have on hand.
Meeting space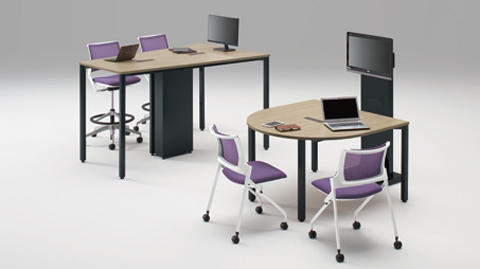 Atypical meeting table
A lineup of trapezoid and ironing board-shaped tables is offered, envisioning monitor meetings. High-position communication can also be accommodated.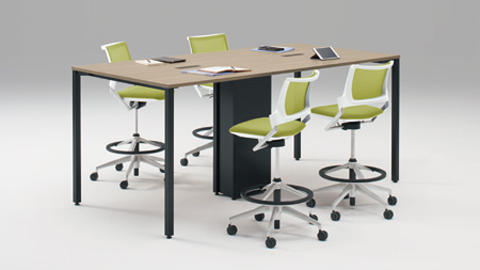 High table
This enables huddle meetings for concentrated information-sharing and decision-making in short periods of time. As such, team performance can be enhanced.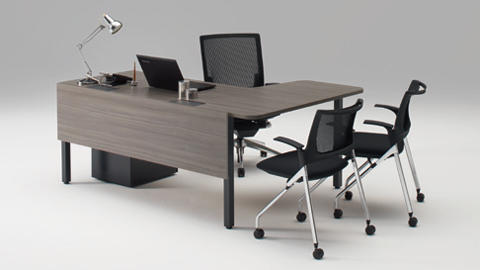 Personal table (Manager space)
The shape of the tabletop takes into consideration guest chairs and so on. Open offices enable smooth communication between staff and those in charge.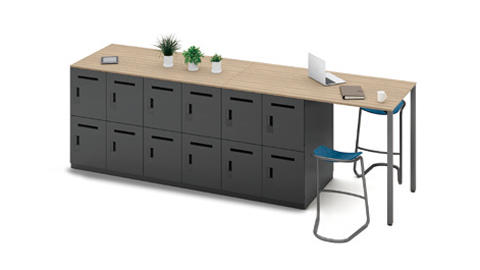 Cabinet tabletop (Magnet space)
The necessary storage spaces can be effectively utilized, and this includes use as lockers for individual workers. This promotes communication with personnel outside of teams.
Gallery
This product name is the brand name that is used in Japan.