Itoki Office Designing Process
Itoki creates new work styles and work places that are not bound by established concepts while using the project management (PM) method. By grasping and directing the entire project, it is possible to create a smooth and consistent office.
We undertake collectively all of the process.

Explore Project Management :
Office Building Workflow
Office Building Workflow
To guide the project to success, we set eight concrete phases based on three representative processes.


8 Specific Phases
We will grasp the whole project and direct it from the perspective of
overall optimization.
Project Framework Construction

Project system, schedule, budget, decision making method etc. firmly.

Programming ( requirement definition )

We clearly define the concept of office building while visualizing tasks using various research methods.

Workshop

Develop the office creation ideas.

Investigation / Actual measurements

Investigate the office usage conditions prior to moving and measure the size of the furniture and equipment.

Hearing

Listen to the employees regarding the project policies and images of the office space.

Basic Design

Project system, schedule, budget, decision making method etc. firmly.

Practical designing

Compile the entire plan by examining the details by work and function involved and prepare the drawings (documents) required to form the "shape" generated by the basic designing.

Regular meetings

Hold regular meetings while confirming the work progress.

Examining the layout and design

Design the new office space taking the work style and work process into consideration.

Procurement / Ordering

Project system, schedule, budget, decision making method etc. firmly.

Construction / Management

We will set up the optimum construction schedule and construction management system and will promote safe construction with careful discussion with stakeholders.

Real Facility

We will control the risks of relocation and promote smooth relocation so that the whole will be in optimum condition.

Construction

Structure an optimal construction schedule and appropriate construction supervision organization.

Moving

Promote smooth moving and take over the necessary procedures required by the various parties concerned.

Inspection

Inspect the new office with the client.

Operation & Maintenance

New work style ・ Maintenance will be carried out to support operation and management rules for smooth operation of work place and keep it in proper condition.
Design Features
We Undertake Collectively All Of The
Process.
The project manager in the company will be the focus
and will proactively proceed with the project. Flexible
schedule control and various solution proposals such as
FM ・ ECO ・ ICT are possible.
Long-Standing History of "Office Building"
Back From 1890
With branch office branches nationwide, we have
experiences and know-how that we have been involved
in making offices in Japan since 1890, as well as
functions that can flexibly respond to national bases
integration and reorganization projects.
Timely and Accurate Budget Management
We will control costs and promote stable projects by
conducting budget simulation based on dozens of
project management work results annually and timely
budget management suitable for each phase.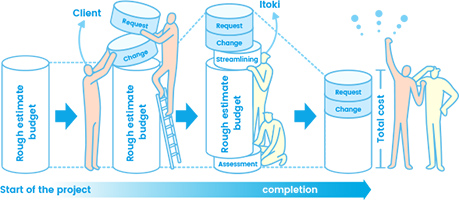 More Office Design Solutions
Contact & Enquiry
Our local Itoki representatives are ready to help answer your questions.
Office Design
Work Style Design